Gulet Charter
Gulet Charter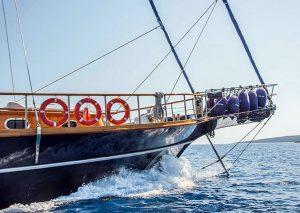 These long keel Turkish Gulet have attracted millions of holidaymakers who enjoy blue water cruising in Turkish riviera and the Greek islands.
Gulet in Turkey the whole year-round. They have been waiting for a long time till summer comes to cruise onboard Turkish gulet charter.
Some of the most popular bluewater destinations, like Bodrum, Marmaris, Gocek, and Fethiye are available for gulet cruising at any time of the year, yet most of our guests prefer summer especially in July and August.
July and August are gulet charter high seasons in Turkey where charter fees are higher than the rest of the year.
Therefore, some charterers may prefer to cruise the Turkish Mediterranean in May, June, or September October because these periods are less crowded and much calmer than of high season when tourists gather from all over the world to spend their gulet holidays in the Mediterranean.
The green olives of the Mediterranean and the mysterious weather of the Aegean will fill your lungs with the fresh air that brings life to your body and soul again! The Aegean and the Mediterranean will thrill you to take a new adventure of gulet rental over the endless shores of the Turkish Riviera on board your gulet rental.
Green mountains that are reaching the coast attract holidaymakers who come to Turkey to enjoy the natural beauty of the Turkish Riviera and its surroundings.
Your cruising on board gulet in Turkey will give you a great opportunity to discover the hidden treasures and beauty of Turkey while cruising with gulets in the Turkish Riviera.
Cruising in the company of your close friends on board the yacht charter Turkey and Mediterranean shores is of great excellence.
Aegean sea and the greek islands are also wonderful and form an important part of the Turkish Gulet cruises. You can enjoy cruising in the Mediterranean and Aegean seas on board our gulet charter.
Turkish Riviera has one of the most famous coastlines in the whole Mediterranean. Your gulet charter in Turkey can start from Gocek or Bodrum.
This is one of the most visited coasts in the world according to British newspaper's statistics. That you may consider starting your cruise from the west or the east.
A 15 cabin gulet charter with accommodation for 30 guests is a very rare and luxurious option, as it provides ample space and privacy for a large group of guests.
With 15 cabins, there are many options for sleeping arrangements, including dedicated cabins for children or private cabins for larger groups.
A 15 cabin gulet charter can provide a wide range of amenities and features to accommodate the large group of guests.
Some gulets may have additional outdoor living spaces, such as a Jacuzzi or bar, to provide more options for relaxation and entertainment during the trip. The gulet may also have a more spacious salon, dining area, and deck space to accommodate a larger group of guests. The gulet may also have a more advanced equipment and facilities, such as a gym, sauna, spa, and even a private cinema.
Additionally, a 15 cabin gulet charter can also provide more flexibility in terms of destinations and itineraries.
With a larger group, it is possible to explore more remote or exclusive locations that may not be accessible to smaller boats. Additionally, the charter can be customized to include a wider variety of activities and experiences to suit the interests of the guests.
Luxury 15 cabins Gulet charter offers accommodation for up to 30 guests in 15 modern and comfortable cabins, full of natural light. There is a lavish master suite on the main deck, as well as a Vip stateroom, two double cabins, and one twin cabin. Guests are looked after by a highly trained yacht crew of 5 members.