Gulet Charter
These long keel Turkish Gulet have attracted millions of holiday makers who enjoy blue water cruising in Turkish riviera and the greek islands .
gulet charter in Turkey the whole year round. They have been waiting for long time till summer comes to cruise on board Turkish gulet charter  .
some of the most popular blue water destinations, like Bodrum , Marmaris , Gocek and fethiye are available for gulet charter cruising at any time of the year, yet most of our guests prefer summer especially in July and August.
July and August are gulet charter high season in Turkey where charter fees are higher than the rest of the year. Therefore, some charterers may prefer to cruise the Turkish Mediterranean in may , june or September october because these periods are less crowded and much calmer than of high season when tourists gather from all over the world to spend their Gulet Charter holidays in the Mediterranean.
Gulet Charter
The green olives of the Mediterranean and the mysterious weather of the Aegean will fill your lungs with the fresh air that brings life to your body and soul again! The Aegean and the Mediterranean will thrill you to take a new adventure of gulet rental over the endless shores of the Turkish Riviera on board of your gulet rental
Green mountains that are reaching the coast attract holiday makers who come to Turkey to enjoy the natural beauty of Turkish Riviera and her surroundings. Your cruising on board of gulet charter Turkey will give you a great opportunity to discover the hidden treasures and beauty of Turkey while cruising with gulets in Turkish Riviera.
Cruising in the company of your close friends onboard the yacht charter Turkey and Mediterranean shores is of great excellence.  Aegean sea and the greek islands are also wonderful and forms an important part of the Turkish Gulet cruises . You can enjoy cruising in the Mediterranean and Aegean seas on board our gulet charter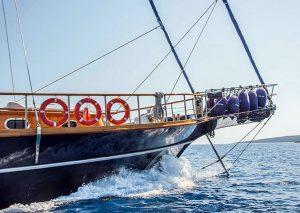 Turkish Riviera has one of the most famous coastsline in the whole mediterranean. Your gulet charter in Turkey can start from Gocek or Bodrum . This is one of the most visited coasts in the world according to British newspaper's statistics.  that you may consider starting your cruise from the west or the east .