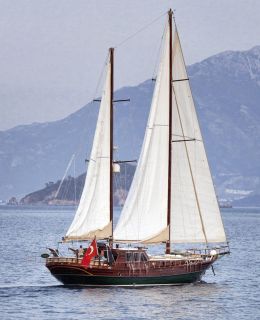 Gulet Charter in Turkey
Holiday makers in large numbers seeking luxury and spacious interiors  in such yachts and our luxury Gulet charter in Turkey is suitable for all budgets for people seeking comfort, luxury, relaxation, sun tanning areas, swimming, privacy, secrecy and many water toys that you can discover yourself. Gulet Charter Turkey
In our portfolio, luxury mega yachts, luxury motor yachts, crewed sailing yachts, luxury motor sailing gulets charter, are all illustrated in details accompanied by photos and every single detail related to any type of yacht along with their features and their prices.
all you need is to sit back and Enjoy gulet charter in the blue waters of the Aegean and Mediterranean seas, namely Turkish riviera and the greek islands.
Gulet Charter in Turkey
The traditional Turkish gulets dates back in history as far back as the Ottoman Empire times. At that time in particular, these gulets were used to carry goods into shallow waters and they were also used to transport passengers between the Mediterranean and the Aegean ports .
Gulet Charter in Turkey
The gentleness of the sea breeze when it embraces your face in the morning? standing on the bow sprit like Jack in that romantic Titanic ?
Are you enthusiastic to feel the luxury at sea? Do you feel that it is your time to have some peace of mind to release the tension of your job and responsibilities?
It feels awesome when you find yourself every morning at a new bay with new scenery and new impressions! In the morning, when your soul is purified, you will enjoy having your breakfast while the sun sends her first rays to earth and the sea is about to tell a love story of the virgin sunrise. especially after a wonderful night you spent in the spacious cabin with your beloved one and living memorable moments.
Our Gulet Charter in Turkey department is there to help you find your best gulet charter Turkey that suits your budget and seats your guests comfortably. You can dispatch us at any time in order for you to have a comprehensive preview about affordable yacht charter prices.
With Gulet Charter in Turkey, you live glorious moments in the lap of the secluded bays in the Aegean and the Mediterranean Sea, also the Greek Islands where you can explore the caves which are widely spread around the coastline during your cruising with gulet charter Turkey
Gulet for sale
If you are considering of having a profitable business from which you could also enjoy, we highly recommend you to decide on one of our transom gulets for sale that we promote in our huge portfolio, so that you can see the pictures of such boat, her interior, her cabins, her deck, and other amenities. When thinking about cruising in the Mediterranean Sea on board of a transom gulet for sale in Turkey. 
Holidaymakers coming from Europe, Asia, Australia, or Americas have a clear preference to our Turkish transom gulets for sale that are fully equipped with state of the art technology that one seeks for himself as an owner or for his guests.  gulet for sale. 
please consult us before making any decision related to buying a transom gulet for sale is good for you since you can get the utmost benefit from our staff as captains and operators giving their piece of advice to our clients. which are related to the maintenance of transom gulets for sale  when they have problems while cruising at sea, since they always return to us for help and further advice.