Yacht Charter
Yacht Charter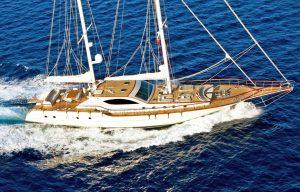 Organizing weekly cruises in the Mediterranean is what we do best here in Turkey.  our agents have successfully organized thousands of yacht charter trips in the Mediterranean since the 1980s. Our agents will respond to your inquiries immediately once received your email.
More information could be obtained via our website for clients who are interested in chartering a luxury yacht charter in the eastern Mediterranean or the Aegean sea.
We can respond and organize any inquiry you might have from a small private yacht to a large megayacht whichever is your desire to cruise in Turkey as well as the neighboring islands, not to mention if you are enthusiastic to cruise the pristine waters of the islands.
We do our best to make clients have easy access to any yacht charter they would have in mind. You need just to make a click on the yacht you like and you can immediately communicate with our head broker of this yacht  You can send us an email from the same page on which you see the yachts which you might consider chartering.
We can help you with any size of motoryacht charter on board the size of yacht that you are interested in cruising.
On board our crewed yacht charter turkey. Please do not hesitate to ask about the details of your cruising in the Mediterranean that you will never ever forget. Our agents are ready, willing, and able to respond to your email as soon as your inquiry is received. 
Yes, this is another way to improve the phrase "yacht charter Turkey." A crewed yacht charter in Turkey can offer an unparalleled level of luxury and service, making it the ultimate vacation experience. With a professional crew at your disposal, you can relax and enjoy all the amenities and comforts of a high-end hotel while sailing to different destinations along the coast.
The crew can take care of everything for you, from navigating the yacht and preparing meals to organizing activities and excursions. You can sit back and enjoy the stunning scenery and the personalized service, knowing that all the details are taken care of.