Luxury Gulet Charter
Luxury Gulet Charter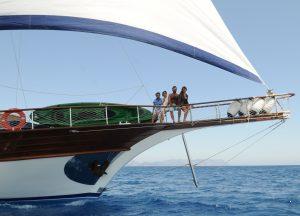 When you are on board your luxury gulet charter in Turkey. Wonderful moments that you are going to live on board in the company of your loved ones, friends or your family will never be forgotten. Holidaymakers meet in the Mediterranean to enjoy the brilliance of the occasion.
This is the summertime. The scenery of the lush green mountains and olive trees will allure you to extend your vacation for another week and maybe more! Therefore, you need to consider the period that you would like to spend on board your luxury gulet charter since the vessels are usually booked three months earlier especially in summer.
Luxury gulet charter itineraries have been carefully chosen to suit your needs and achieve your expectations. Our guests are interested in private and calm waters where gulet charter clients enjoy the most. This is what we have to look for to satisfy our guests. Even if you consider staying the night at some nice restaurant and have dinner ashore with your family, your captain can advise some good restaurants which are available in the said vicinity with gulet charter in turkey.
You can learn more about luxury yacht charter by sending an email and let us know concerning your next gulet charter that you are going to stay on board for a week or more. You can call us via e-mail, WhatsApp, or telephone on 7/24. Our agents are always there to respond to clients from all over the world to serve you with a luxury gulet charter.