Motoryacht Charter
Motoryacht Charter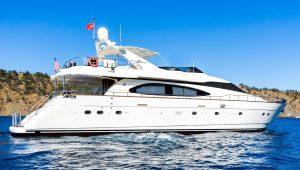 You need to check that the motoryacht charter in Turkey condition is quite good and ready for cruising at any time. The winch, anchor, shaft, and connection with the propeller should be tested on the part of the buyer. This kind of test should be carried out especially motor yachts.
If you do not have such experience and this is the first time you are into this business, our team will help you with this and provide you with the experts who do evaluate the current condition of your luxury motoryacht from their objective point of view.
Our charter department about luxury motoryacht would kindly help you fulfill your dreams of getting a motor yacht charter with the standards and preferences that you have drawn in mind. You need to call our agents and they can react with you whether your language is English, French, Spanish, Russian, or Turkish of course. We would like to invite you to pay us a visit to our boatyards in Antalya, Bodrum, Istanbul, and Göcek where our professional naval engineers and experienced staff are working very hard trying to deliver the luxury motoryacht charter that they have started last year in order for the yacht owners to start the business next summer yacht charter Bodrum confidently.