Yacht Charter Istanbul
Yacht Charter Istanbul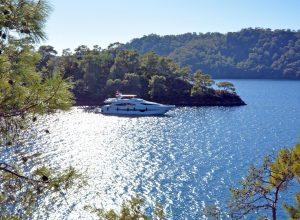 The gentle wind will embrace you as well as your guests when on board your yacht charter Istanbul. Hundreds of holidaymakers have been on board our yacht from the early morning to discover the joy of cruising in the Bosporus area that joins two continents, Europe and Asia.
We can help you a have royal, majestic vessel to hold your wedding party on board, your birthday party, or any occasion that you might suddenly have. We can arrange your yacht charter to Istanbul in a professional way that could satisfy you and your guests. If you need more information, our agents can provide you with every detail you might need for yours.
Bodrum where the weather is fine and suitable to cruise whenever you would like to. Our agents can respond to your inquiries at any time you decide to have yacht rental in Turkey cruising.